Specifications
Rung Size:
15 x 3.5 cm
Bracket:
11 x 7 x 2.4 cm
Weight:
250g
Material:
Almag 35 aluminium alloy
Fastenings:
3 off 6 mm csk SS machine screws
MastWalker is supplied as different type numbers with different curvatures to fit masts of various section profiles. Please see our Mast Profile Template PDF to determine the correct MastWalker Type Number for your mast.
The diagram below is not to scale but just for illustrative purposes.
Click here for full size PDF template. Please ensure you print it at 100% size.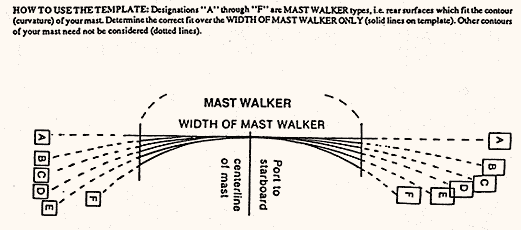 Type D fits many standard mast sections
Part Numbers
Code
Description
MW508-192
Type A
MW508-183
Type B
MW508-184
Type C
MW508-185
Type D
MW508-186
Type E
MW508-187
Type F