Links
Jump to: General Sites | Magazine Links | Trade Links | Customer's Sites
General Sites
Magazine Links
---
Industry Links
---
Customers Sites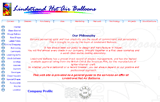 Lindstrand Hot Air Balloons
Lindstrand Balloons Ltd. are manufacturers of hot air, gas balloons, airships, tethered aerostats and aeronautical fabric engineering products. Special products include inflatable buildings. Leaders in technology of all lighter-than-air products.




---
If you would like to link to our site or your URL added to our range of links email us here.